Garden Architecture & Design
Design & Installation of Residential Landscapes
Classic | Traditional | Modern | Form | Function | Collaboration

Specializing in designing beautiful outdoor garden rooms we help our clients to achieve the garden of their dreams. A garden space that compliments the architectural aspects of the home along with how the family uses the property. With a full staff of licensed architects, designers and horticulturists, a creative style of stone, brick and plants bring the yard to life.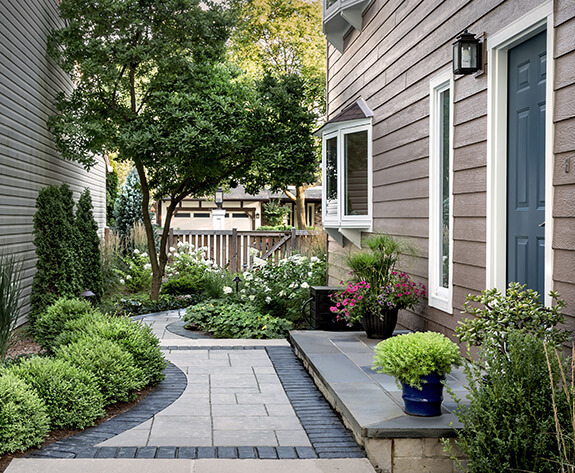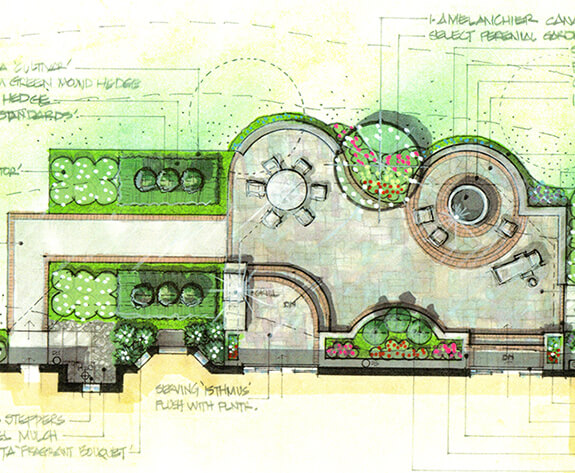 Our Design services include:
• Scaled full architectural drawings
• 3D Renderings
• Plantings
• Perennial borders
• Brick and Bluestone Patios
• Seatwalls
• Outdoor Fireplaces and Firepits
• Brick and Bluestone Walkways
• Outdoor Pavilions
• Custom Carpentry, Arbors, Gates & Pergola's
• LED Landscape Lighting
• Grading and Drainage
• Water Features
• All of our projects come with solid full warranties
• Fully Licensed & Insured
Brick & Stonework
New brick and stone can add timeless beauty to the landscape. A masterclass addition to any home, our construction and masonry crews are experienced craftsmen at their trade. We work with clients in choosing the right hardscape materials from clay brick to Unilock pavers, Natural Bluestone and to outcrop stone. With our experienced craftsmen comes efficiency, reliability, and a beautiful installation.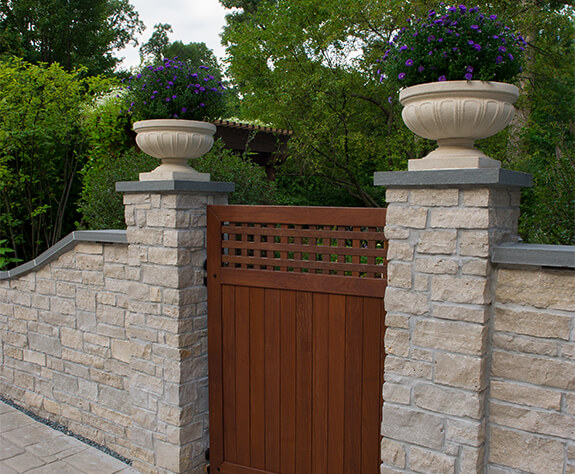 Our Brick & Stonework services include:
• Brick patios and walkways
• Flagstone and Bluestone Patios and Walkways
• Stone Seat walls
• Retaining Walls
• Natural Outcrop Stone and Boulders
• Custom Masonry
• Outdoor Fireplaces and Firepits
• Stone Walls and Pillars
• Pool Decks
• Gravel European Gardens
• Unilock Pavers
• All of our projects come with solid full warranties
• Fully Licensed & Insured
Fine Gardening Services & Maintenance
At Architectural Gardens, the care of the landscape after it is installed is just as important as the initial installation. We believe each garden has its own unique needs and distinct character, and it is our responsibility to provide the right kind of care to match.

Our team has the expertise needed to evaluate the landscaping requirements of a home. We offer a full service maintenance team who will tend to all the needs of the landscape. Including weeding, trimming, spring and fall cleanups and weekly visits.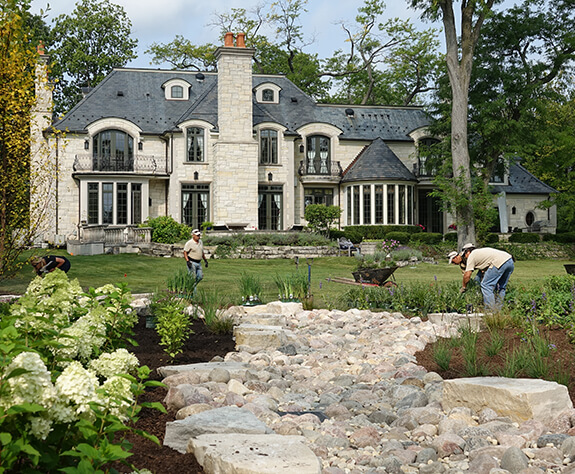 Our Fine Gardening services include:
• Flower & Perennial Care
• Container Maintenance
• Dormant Pruning
• Pond & Water Feature Care
• Power Washing
• Sealing Stone & Pavers
• Premium Compost & Shredded Hardwood Mulch
• Turf Maintenance
• Spring & Fall Seasonal Visits
• Spring & Fall Fertilization
• Full service weekly maintenance & lawn care packages
Custom Carpentry & Landscape LED lighting
Custom carpentry can add a level of depth and visual interest to the landscape. A reprise in the shade, a romantic arbor with flowering vines or a custom gate can further the aesthetic appeal. Our on staff carpenters build all of our projects with the finest materials and are built on site to ensure a custom design perfectly scaled to your project.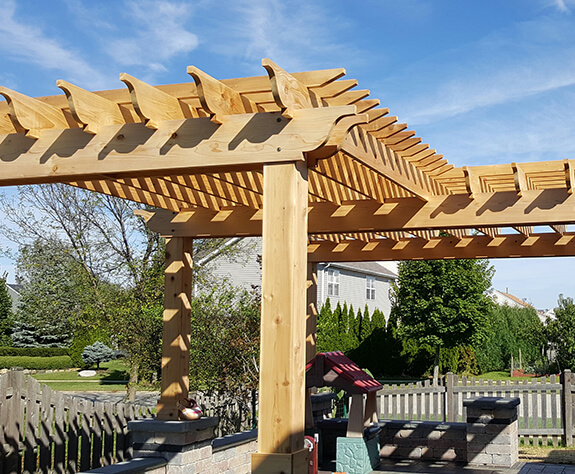 Our Lighting Design & Installation services include:
• Tree uplighting, path lighting and deck lighting
• Commercial Grade Transformers
• Smart phone programmable
Our Custom Carpentry services include:
• Custom Design & Installation of Pergolas, Arbors, Garden Gates
• Pavilions
• 3D & 2D Elevations & Drawings
• All projects are custom built on site
• File all permit forms necessary for construction
Seasonal Rotations
The glorious seasons of change in the Midwest always make for an ever-evolving change of beauty as the seasons change. We offer full service rotation of the seasons. In spring we visit properties filling urns with colorful spring flowers and branches. With the arrival of summer come an explosion of colorful choices both for urns and bedding plants. Filling your yard with color becomes an anticipation of a beautiful in summer. Come fall we can rotate in mums and during the holidays lush greens and berry branches. Each project is custom designed onsite with our floral arrangers.